Oxford Area High School cheerleaders are ready to shine

09/03/2013 08:10PM, Published by ACL, Categories:
---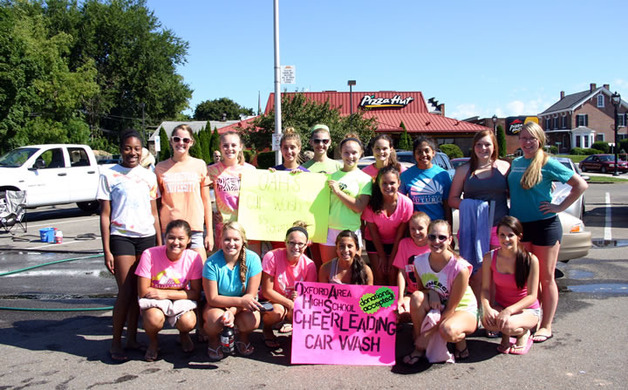 ---
The Oxford Area High School cheerleading team recently held a fundraising car wash in the parking lot of the Oxford Pizza Hut. The cheerleaders worked to render a steady stream of cars and trucks spotless throughout the four-hour event, raising $565 for team activities during the 2013-14 year. At the front, from the left, are juniors Corinne Blessington, Ashley Price and Taylor Bennett, senior Alex Fernandez, freshmen Kayla Flynn and Amanda Gunzel and seniors Carly Gaspar and Monica Meekins; standing, from left, are seniors Taja White and Teresa Freisleben, junior Courtney Brown, freshman Ellie Murphy, sophomore Jessica Huff, freshman Carly Stolzfus, juniors Emily Flynn and Jessica Valente and seniors Sarah Hineman and Kaylee Goodwin. 
---
---
---
oxford area high school fundraiser oxford area high school cheerleaders car wash
---