A new nursing home rises on Chatham Acres property
08/28/2013 07:03PM ● By ACL
By John Chambless
Staff Writer
Hundreds of years of West Grove history will come to an end in mid-October, when the residents of the Chatham Acres Nursing Home move out of their rambling four-story building and into a brand-new facility. And administrator Ellen Mumford can't wait.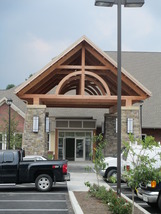 Speaking last week over the chatter of residents in the nearby activity room, Mumford said there's a special spirit among the residents and staff members at Chatham Acres, but the building has just about run its course.
"Saber Healthcare took us over four and a half years ago," Mumford said. "Almost right away, they began working on the project."
Opening next month in the front yard of the old nursing home will be a new 72-unit skilled nursing facility with state-of-the-art amenities. The $8.5 million project will cover 53,000 square feet.
Chatham Acres has been a private nursing home since 1954. Before that, it was retirement facility for the Macabees for about 50 years. "People would pay a dollar a year and live here, and they would also pay out to widows and people like that," Mumford said. "Eventually the five Macabee homes across the country became part of Met Life in 1954.
"The oldest part of the building is the house part, which is about 350 years old," Mumford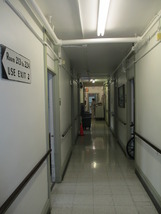 continued. The horseshoe-shaped facility extends out of the original foundation, the bare dirt floor and stone walls of which are still visible in the basement. While it's not designated as a historic property, "Saber looked at it and wanted to keep at least the house part of it," Mumford said, "but they weren't able to."
The old building "has served its purpose, but it was never really built for 100 years of hard use," she said. "We're inspected every year, so we're fine. But there's no bathrooms in the rooms, there are no real common areas up on the floors. We have two elevators -- one from 1934 and one from 1998."
There will be about 25 new staff members added when the new building opens. There will be about 78 residents making the transition to the new building in October. The new facility has a 121-bed capacity.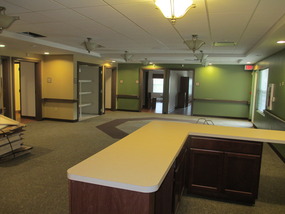 Mumford, who lives in Downingtown, has been the administrator at Chatham Acres since April 2000, "through four ownership changes," she said with a smile. "It's been quite an adventure. For the first couple of years, I said, 'Well, I'll just stay through this,' and then then I said, 'I'll just stay through this other thing,'" she added. "I told my assistant the other day that I'm going to quit saying that. I'm just going to stay."
The building is showing its age. Exposed pipes run along the ceiling, the hallways are dark, and so narrow that wheelchairs can barely pass each other. The patient rooms are small, with the original cast-iron radiators that can be problematic in the winter. The electrical system and the two boilers require constant maintenance.
"This has a different personality than most nursing homes," Mumford said. "You either love it or hate it when you walk in the door. And we have had people not be able to see past the looks of the building. That can be difficult. But everybody here knows every resident. We're all like a family here. It's a neat place to be."
Finances at the home, however, were a struggle until Saber Healthcare stepped in.
"We were a very, very poor home," Mumford said. "Medical assistance at the time was paying about $120 a day. We were losing $60,000 to $70,000 a month. I talked to Saber and said, 'Just give us a chance. We need the support.' And they did. It's a fantastic team, and that's all we needed."
The area community has always stepped up to help the residents at Chatham Acres. "Year after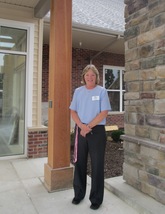 year, they've donated equipment, and gifts at Christmas for the residents," Mumford said. "We still have at least 50 residents who have no family, no contact. The home would probably not have made it without the community support."
The residents have had a couple of chances to tour the gleaming new facility that sits less than six feet from the old building, and they are excited about the change. "They're nervous about having a roommate, though," Mumford said. "We have some people who have lived here 20 years and have never had a roommate. We let them pick their own roommates, and we've had some meet-and-greets. It's been a process. The idea was to make it as smooth for them as possible."
The new, one-story building has a center nucleus where there's a laundry, kitchen and mechanical rooms. There are two residential wings off of each side of the central area. There are private and shared rooms, large activity rooms and eight-foot corridors throughout. A sunny room with huge windows will be a welcoming place to get physical therapy and to practice independent living skills at a working kitchen. There will be two dining rooms, beauty salons and spa rooms, and a courtyard where residents can walk outside.
"Nothing is coming over from the old building. All the furniture -- everything -- is brand new. Every room has a different colored accent wall, there will be kitchen areas where residents can get themselves a snack or drink, and the activity rooms are nice and large," Mumford said during a tour in August while the buiding was still under construction.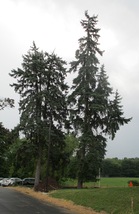 When the doors open on Oct. 15, the Chatham Acres name will disappear. On that day, the Twin Pines Health Care Center will be officially opened, and the building behind it will await demolition.
"Saber has been so good to us and these residents," Mumford said. "We ran a contest for the new name, and Twin Pines won. The two trees out front are the only ones left from before. We're very excited."
For more information about the new Twin Pines Health Care Center, call 610-869-2456.