Schools help students avoid the downward spiral
08/28/2013 04:43PM ● By ACL
By John Chambless
Staff Writer
At Kennett High School, the academics are rigorous, the staff is dedicated, and the principal, Michael Barber, is a hands-on administrator who regularly mingles with the students. Every day, everyone at the school hopes that they're doing enough to keep kids away from drugs.
Barber has been the principal at Kennett for seven years, but he has spent 16 years in education. In those years, he said, "the difference I've seen in terms of drugs is accessibility. For instance, now we deal with a lot of concerns about prescription medications."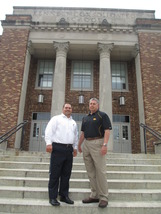 During an interview last month, Barber sat with Dr. Barry Tomasetti, the superintendent of the Kennett School District, and explained how the school deals with students who are caught with drugs. or who are suspected of drug use.
"It's not any one action that's going to take care of this," Tomasetti said. "It's going to be incremental. We have to be aware, and chip away at the problem. Our teachers have to know the signs so they can talk to us, so we can talk to the parents. It's a constant battle."
In any given year, Barber said, between five and 15 students at the high school are disciplined in some way for involvement with drugs. That figure may include several students involved in one infraction, he explained, and the severity also ranges -- from a student who is only questioned about possible drug use, to one who is caught with drugs at school. In a school with 1,260 students, that handful of cases is remarkably low.
"But if we have even one child who's having a problem in this area, that's too many," Tomasetti said.
There's an extensive network of people who are looking out for each student, Barber said. Teachers are trained to look for signs of possible drug use.
"If we get information that a student may be experimenting or using drugs, what we'll do is, in a non-accusatory way, we notify parents of what we've heard," Barber said. "Most of our information will come to us through third parties.
"We follow due process and we're in compliance with all federal and state regulations," he said. "The biggest thing is the health and safety of our students. We have many meetings with parents and students and guidance counselors. In addition to that, there's a health screening that is conducted for students who are found in possession. At that point, based on that screening, there are recommendations made, so it could be some outpatient therapy. We steer them toward help."
As the district superintendent, Tomasetti is notified of every case of bullying or drug incident. The policies regarding drugs are spelled out in the student handbook, with only the most severe infractions - selling drugs on school grounds, for instance - resulting in expulsion. The process is structured to provide treatment and guidance, not just push the student out of the building.
"There's suspension and then there's expulsion," Tomasetti said. "Distribution of drugs could lead to expulsion. And if somebody's just in possession, is it his first time, his second time, the third time? It could get progressively worse."
"We have school social workers, and we also have a student assistance team that consists of school guidance counselors, our social worker, administrator and school nurses," Barber said, "as well as teachers who have been trained to recognize signs, communicate with families, gather data and then use that data to implement an intervention."
Tomasetti and Barber are keenly aware of increasing public concerns about drug use - heroin in particular - in southern Chester County, as well as the community groups such as Kacie's Cause which have sprung up to spread the word about the crisis.
"I think Kacie's Cause has taught a lot about the accessibility of heroin," Tomasetti said. "I think they're doing an outstanding job of bringing this to light. The parents I come into contact with are more vigilant. That's better for everybody. Those relationships with the parents are going to be the strongest deterrent to those kids getting involved in drugs.
"The psychology of this problem is the dificult part of it," he continued. "We know we can't scare the kids. I've attended the sessions with Kacie's Cause and Mr. Rumford, and he made the statement that the kids who came to Kacie's funeral were still using drugs."
Barber and Tomasetti firmly believe that getting every student involved in some sort of sport, after-school activity or club can go a long way toward keeping students on a successful path. Activities outside of school fill empty hours during which parents may not be home, and they surround students with other young people who share their ambition and dedication.
At Kennett High School, Barber said, "We have so many clubs and activities. At times I'll look through the front window and see kids running around on brooms, playing Quidditch. You name it, we have it. That's because we want to be sure that there's a connection between our students and the school. And again, it comes down to a dedicated faculty who are willing to say, 'I'll stay and supervise this activity, and don't worry about paying me for it.'"
Tomasetti and Barber credit other groups in Kennett Square - such as The Garage, Big Brothers Big Sisters, After the Bell and Chester County Futures - with keeping students away from the downward spiral of idleness, depression and drug experimentation. "Statistically, kids who are in these programs are not the kids who have discipline issues or are involved in drug abuse," Tomasetti said.
But schools in the district have faced federal cuts of about $75,000 for next year, Tomasetti said, and budget belt-tightening has curtailed some of what schools can do.
Tomasetti's oldest son graduated in 2012 from Kennett High School, and he has nothing but praise for the school. "The high school is completely safe. I wouldn't have my children here if that wasn't the case," he said. "I asked my son if he thought it was a good move coming to Kennett from Mifflinburg, where we lived before, and he said it was a fantastic move. He really felt he benefited from the high expectations of the teachers, and the motivation he had from competing with other high-achieving students. There's so many positive things about our school district."
Tomasetti said drug incidents are non-existent at the elementary level in the district. "Also, in grades six through eight, most years it's zero," he said. "In one year, we had a situation where there were four or five kids involved in one situation. Another year I might hear of one or two. It's a rare occasion that I see it at the middle-school level. Very rare. I know of two situations since I've been here, in the past three and a half years."
It's the high-school age students who frequently experiment with drugs and slide into trouble.
"We're assisting students through our social workers, school psychologists, and guidance counselors," Barber said. "They all function in a preventive manner. We provide resources to families as needed." And students are pushed to do the best they can.
"In my experience, kids who are successful in their classrooms have the best chance of keeping away from trouble of any kind," Tomasetti said.
Barber pointed with pride to Kennett High School's high academic results and its top ranking on some lists of best schools. Strong efforts are made to reach the 35 percent of the students who are hispanic, Barber said. Notices sent home to parents are in Spanish and English, staff members have learned conversational Spanish to better communicate with parents, and students who are working to learn English at the same time they're taking classes are given extra chances to succeed.
"These students are eager to learn, and they can do very well," Tomasetti said. "They just need some extra time."
Running the high school, and keeping a watchful eye on drug use, is a daily balancing act, Barber said. "It's a concerted effort among all the constituents -- the staff, the students, the parents -- to make sure we protect our most prized possession," he said. "That's our children, our students."