Protesters push for gun-control legislation
08/27/2013 07:42PM ● By ACL
A group of protesters gathered in front of the Unionville office of Rep. Joe Pitts on Aug. 21 to press for stronger gun-control legislation.
By John Chambless
Staff Writer
A group of sign-carrying protesters stood in front of the Unionville office of Rep. Joe Pitts on Aug. 21 to push for expanded background checks for gun purchases.
Twenty-three people turned out for the noon event. Many were members of Organizing for Action (OFA), a non-partisan organization of more than 3 million people who work on issues of job creation, strengthening the middle class, gun violence prevention, immigration reform and measures to combat climate change.

On Wednesday, there were three simultaneous regional events sponsored by OFA-PA in support of H.R. 1565, a bipartisan bill that was introduced in the House in April and seeks more stringent background checks for anyone purchasing a gun, particularly sales at gun shows or over the internet. The resolution has also been known as the Public Safety and Second Amendment Rights Protection Act of 2013.
A group from OFA-PA was also at the Exton office of Rep. Jim Gerlach, and a group was at the Thorndale train station to thank Rep. Pat Meehan for his announced support of the resolution. Pitts was not in his office during the event.
Holding signs and facing passing cars, the group got mostly honks and thumbs-up signs from drivers.
Harold Leonard of Parkesburg said before the event that he had lost two brothers to gun violence -- one in 1971 and one in 1991. Leonard noted that he's a veteran and does not support taking anyone's gun away from them, but he is seeking some measure of control over purchases. In a nation that's already awash in unregistered guns, the task might seem overwhelming.
"It has to begin somewhere," Leonard said. "If we don't do anything, nothing will ever get done.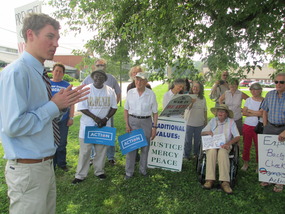 I'm taking a stand. It's time to start a conversation. These groups like the NRA and the Tea Party want to frighten Americans, telling them that we want to take away their guns. What we're talking about are things like assault rifles. What do you need them for?"
Joe Kowalski, who said he is a gun owner and veteran, said H.R. 1565 "doesn't constrain gun owners. But there's no reason for anyone to have a gun with a magazine that holds 30 or 60 rounds. The only purpose of those is to kill as many people as possible."
Those in opposition to more stringent gun control measures are "afraid of government tyranny," Kowalski continued. "They want to keep their guns in case the government comes after them. Clearly, the U.S. government has outlawed possession of certain weapons of mass destruction by private citizens. But I don't think it should be legal to own a rocket launcher. It's just common sense. You can never make everybody totally safe, but you can be smarter, and not pander to the gun lobbyists and the gun manufacturers."
After half an hour, the group in Unionville held hands in a reflection of solidarity similar to the "Hands Across America" campaign of 1986. Then Josh Maxwell, the mayor of Downingtown, spoke briefly to the group. He recalled a 2010 shooting in Downingtown and said that background checks could better protect people in situations of domestic violence.
"Background checks are such an obvious thing," Maxwell said. "They would prevent someone from buying a gun on Craigslist, for example. Joe Pitts, and anyone else, can't argue with that.
"As a mayor, I'm concerned about this issue, because people's lives literally are at stake," Maxwell added. "We need to keep talking, and keep the pressure on, to make these people try to defend an indefensible position."