Brandywine Polo Club sees community support after barn destruction

08/15/2013 12:16PM, Published by ACL, Categories:
---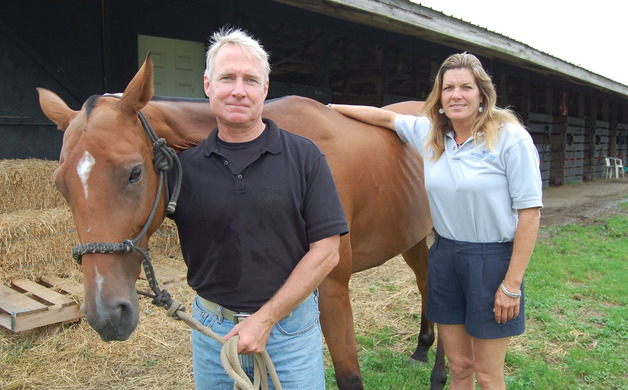 Nicholas Place and Robin Carroll-Bostwick of the Brandywine Polo Club.
---
---
By Richard L. Gaw
Staff Writer
Throughout the course of its 63-year history, the Brandywine Polo Club in Toughkenamon has hosted lavish fundraising events that have raised sufficient amounts of money for dozens of organizations and causes throughout Chester County. Ironically, the event the club will be hosting on Aug. 31 will be for their own benefit.
Late in the evening of Friday, April 19, a straight-line wind shear ripped through Toughkenamon, and tore the roof off of a stall barn that, during the polo season, holds as many as 30 horses. Pieces of roofing, beams, and thousands of nails were airborne, and they landed everywhere, some as far as a half-mile away. Electric and water were unavailable.
Until April 19, the Brandywine Polo Club had 103 horse stalls. One day later, a third of those spaces were wiped away. Luckily, because it was two weeks before the 2013 season was to open, there were no horses in the barn at the time of storm.
Robin Carroll-Bostwick had just been named the new director of the Polo School a week before the tragedy, and was in Florida when she received a text message from a Polo Club member.  "The text read, 'You may want to come up here a little early,'" Carroll-Bostwick said.
In the days and weeks after she arrived in Toughkenamon, she saw two things: the absolute devastation of the barn, and the tireless commitment on behalf of club members, volunteers and community members working to clean up the nearly 12 tons of debris.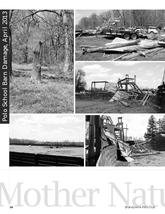 On April 20, one day after the tragedy, a large youth lacrosse tournament was scheduled to take place on the club's grounds. Piece by piece, lacrosse players, their parents and league officials gathered to clean up debris. A local metal detector group volunteered to comb the area. Dozens of people who had never even played polo before cleaned up sections of the playing fields. Members and non-members gave up entire weekends to get the playing fields ready for the start of the season.
"The outpouring of community support, among everything else during this tragedy, is what impressed me the most," Carroll-Bostwick said. "Without them, we wouldn't have been able to have a season."  
While the stall is down, seven horses are being kept at an old stall on the property, leaving many of the players being forced to find outside stabling for their horses.  The cost of repair of the roof is estimated to be in excess of $100,000, and so far, the club has raised a quarter of the funds needed. The remaining 75 percent will have to come from other sources.
The Club's Polo Ball on Aug. 31 at The Yellow House of Willowdale is expected to make a huge contribution to the needed funding for the roof. Incorporating a Great Gatsby chic theme, the benefit will feature dinner, dancing, an open bar, a silent auction, and live music provided by Helix, a local band.
"This is a big change for the club," said board member Nicholas Place. "We are a long-standing tradition in Chester County, and yet it's still in many ways a well-kept secret. I have friends in Kennett Square who don't know that there is a polo club here, and this tragedy has given us the idea that we really want to engage our local community even more. We want to spread the message that polo is accessible to all, and a lovely way to spend a summer afternoon, to have a tailgate picnic and watch the sport."
In addition to its May-September season, the "Friday Night Under the Stars" concert series, an open-door policy for those looking to see polo practice throughout the week, and introductory classes in polo have all contributed, Place said, to removing the "elitist" stigma that has separated polo from the general public.   
"The perception that polo is only for people with excessive amounts of money is long gone," Place said. "Over the last ten years, I've seen a significant change." 
"We've developed our mission around the idea that polo is a family event," Carroll-Bostwick said. "It's difficult these days to find an event that allows an entire family to gather in one place, enjoy the fresh air and give the children an opportunity to run around."
Tickets for the Polo Ball event for the Brandywine Polo Club are $100 each, and $850 for a table for ten. To purchase tickets online, visit www.brandywinepolo.com. Sponsorships and suites are also available by calling 610-388-7758. The Yellow House of Willowdale is located at 113 E. Street Rd., Kennett Square. The Brandywine Polo Club is located at 232 Polo Road, Toughkenamon. For a complete listing of all events, visit the club's website.
---
---
---
fundraiser brandywine polo club fundraising polo
---