Kennett Township Bikeway Project to begin construction phase this Fall
07/24/2013 03:57PM ● By ACL
Scheduled to be completed in 2014, the byway will serve as an important link in the overall beautification of the Kennett Pike.
By Richard L. Gaw
Staff Writer
Many mornings, when John Haedrich sees bicyclists and joggers parade past his home on the Kennett Pike, he imagines a much improved pathway for them in the near future, one that not only will allow them to travel more safely and to enjoy the scenic byway, but one that will slowly contribute to a more walkable community. Then he remembers that he's part of a consortium of visionaries who are in the process of making that vision come true.    
"I'll see a cyclist, and I'll think, 'He doesn't know what we're doing yet, but he'll be very appreciative of it when it's completed,'" Haedrich said.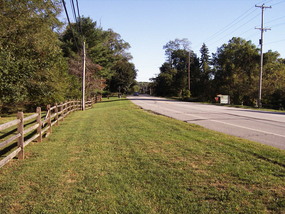 Haedrich, along with former Kennett Township supervisor Tom Nale and several other colleagues associated with the township, is part of the Kennett Bikeway Project, now in its eighth year of a development plan targeted toward beautifying the 1.6-mile stretch of the Kennett Pike within the township's boundaries – extending from the Fairville Road area to the intersection of Kennett Pike and the Baltimore Pike. The Project will include the addition of a five-foot shoulder area beside both northbound and southbound lanes, a bike / walking path, and improved landscaping that will further beautify this historic byway. In addition, the future plans also call for a similar pathway along the Baltimore Pike that connects from Kennett Pike at Hamorton to Longwood Gardens, a distance of nine-tenths of a mile.
After a construction firm is selected in September, the project is scheduled for construction in the spring or summer of 2014.
When completed, the byway will serve as an important link in the overall beautification of Route 52, one that not only connects Downtown Wilmington with Longwood Gardens, but also encompasses a Figure 8 loop of the Brandywine Valley Scenic Byway that winds its way through seven townships in southeastern Pennsylvania, from Kennett and Pennsbury Townships to as far north near  Marshallton. The Kennett is part of the Brandywine Valley Scenic Byway Commission, made up of representatives from Pennsbury, Pocopson, East Bradford and Chadds Ford townships. 
Although the formal beginnings of Kennett Township's involvement in beautifying its portion of Route 52 began in 2005, the actual tendrils date back to the early 2000s, when grass roots organizations like Delaware Greenways called for improvements to Route 52 that included widened shoulder lanes and beautification projects.
"They felt it ought to be done in a way to make the community proud," Haedrich said. "The vision went from just keeping Greenville nice to becoming a national scenic byway, from Rodney Square up to the Delaware state line on Route 52, as well as Route 100. When we at the township began to see what they were doing, we knew that we should be the next link in that connection."
Haedrich said that soon after the township began planning its own program, Longwood Gardens was soon woven within the planning process. "The folks at Longwood began to watch us make the progress, and pretty soon, they became as strong an advocate for the completion of this as anyone."
And for good reason. Longwood Gardens is embarking on a grand, 40-year master plan for its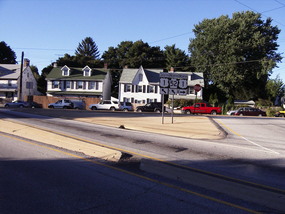 future. West 8, an internationally-known landscape and planning company now designing Governors Island Park in New York, is the re-designing the Gardens and in the process, re-defining its mission. Part of their plan will be to expand the number of acreage accessible to the public, provide for more pedestrian traffic, and lay out a new technology infrastructure within the gardens. Another component of the West 8 plan will be to make improvements to its Ruby Mile area adjacent to Baltimore Pike that calls for the creation of a beautifully-landscaped, country vista.
"The pedestrian/bike path, as part of our plan, can be fully integrated into the West 8 vision," Nale said. 
In 2008, the Kennett Bikeway Project members, working with Tom Committa, a Chester County-based landscape planner, created a concept development study that included ideas about potential landscaping improvement areasas well as where the preservation of historic stone walls and exposing rock outcroppings can be made along the 1.6-mile stretch. Following the planning process, one done in consultation with the Pennsylvania Department of Transportation (PennDOT), Urban Engineers, a full-service consulting and engineering firm in Philadelphia, developed several layers of renderings and drawings to fully specify the details for construction.
In 2005, the Kennett Pike was designated as a scenic byway, which opened the doors for the township to apply for – and receive grants. Their wait has been well worth it; Kennett Township received a $925,000 grant from the Federal Highway Administration for this project – 80 percent from the federal government and 20 percent of the cost coming from the township. For the next phase along Baltimore Pike, Nale said that the group has recently applied to receive a $350,000 grant from the William Penn Foundation, which would allow the township to work cooperatively with Longwood, with no federal funding involved.
Nale believes that these projects are part of a grand vision for the entire area, one that he thinks can begin with a visitor arriving from a neighboring city or town via car, train, or bicycle. "I can truly see someone getting on a train, say, in Philadelphia or Washington, D.C., arriving in Wilmington, and bicycling up Route 52 all the way to Longwood Gardens, and back again," he said. "They can start in Wilmington and see the improvements made in Delaware, and then continue on and see the improvements we've made, and then see Longwood Gardens' vision come to life.
"They can see that it's all tied together, from city to towns to one of the most beautiful gardens in the world, all connected by a major byway, an already beautiful stretch of road, made even more beautiful."