Hopewell Elementary School recently held its second annual science fair, with a special parents' evening featured this year. The event is designed to develop critical thinking and analysis skills among the fifth and sixth grade students.
Judging was held for the fifth grade projects, and the five winners received a gift card and will have their names engraved on a plaque to be displayed at in the school lobby. This year's science fair was made possible through generous donations by Herr Foods, Pat's Pizza, Wawa, the Jennersville YMCA, Oxford Educational Foundation, former Superintendent of Schools Dr. Raymond Fischer, Principal Nicole Addis, the Hopewell fifth grade science teachers, Goshen Signs and Kanara Consulting.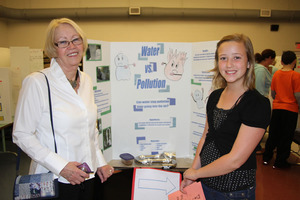 Fifth grader Abby Cummiskey shows her grandmother, Julie Henry, her project, "Water vs. Pollution."