Paul Harris Human Potential Scholarship Fund to benefit Camp Dreamcatcher campers
07/10/2013 09:24AM, Published by ACL, Categories: In Print, News
---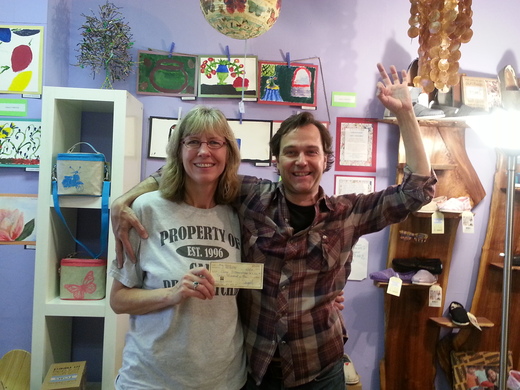 Doug Harris (right), the owner of the Eco Boutique in Kennett Square, presents a check to Camp Dreamcatcher Executive Director Patty Hillkirk (left). Harris established a fund honoring the memory of his uncle, Paul Harris.
---
---
Kennett Square business owner Doug Harris has established a fund that will provide two yearly $1,000 scholarships to HIV/AIDS impacted youth served by Camp Dreamcatcher.
Patty Hillkirk, the executive director of Camp Dreamcatcher, said that the first recipients of this scholarship are Tranessa and Tyrell.
"The scholarship winners have demonstrated positive leadership and service in their own communities and at Camp Dreamcatcher," said Hillkirk. "They are both positive role models for the children served by Camp Dreamcatcher and are an inspiration to me.  I am very proud of them and grateful to Doug Harris for honoring the memory of his Uncle Paul by establishing this scholarship program."
Tranessa is an HIV positive young woman attending a community college.  In her application, she wrote that, "The issue of HIV/AIDS has impacted me as a leader in such a big way.  Being a young woman who was born with HIV gives me the drive to help younger children who were born with HIV to be proud of who they are and to know that there is a beautiful world awaiting them.  My main hope and dream that I have for my future is to be a nurse practitioner for children with chronic illnesses."
Tyrell is a young man with the dream of attending community college and studying carpentry.  In his application, he wrote that, "The issue of HIV/AIDS has impacted me as a leader because I realize that I can make a change in people's lives because I understand their situations.  I want to be a positive role model to younger kids, especially in my community, because it was hard for me and I know it is hard for them.  I want to own my own business and build a recreation center in my community."
For Doug Harris funding the scholarship is personal.  He explained, "My Uncle Paul was a hero to me and he was always there to help someone in need. Because of his generosity and his believing in me, I was able to finish college and create a life of my own. My intention for creating this scholarship fund is to continue the legacy of believing in our youth, and empowering them to create a life they want to live, based on their dreams. Each year, I will host an annual Concert for Dreams to increase the scholarship funds, which will enable more Camp Dreamcatcher children to fulfill their dreams of going to college."
---
---
---
---
You might also like
Eighteen years ago, Patty Hillkirk founded Camp Dreamcatcher to help youngsters who were growing up with HIV or AIDS. A generation later, the organization has evolved into a consistent force in their lives.
---