Nottingham School raises $14,573 for juvenile diabetes research
06/25/2013 08:05PM ● By ACL
Pictured at the kickoff of the Kids Walk campaign at Nottingham Elementary School are (from left) Dana Gold, Kids Walk coordinator for the Juvenile Diabetes Research Foundation; Amanda Young, Nottingham Kids Walk coordinator; assistant principal William Vogt, third graders Aisha Martin and Drew Galante, both of whom are diagnosed with Type I diabetes; Drew's dad Jason, Kids Walk parent representative; and mom Miriam.
The students, families and staff of Nottingham Elementary School recently held their first Kids Walk event, which raised $14,573 for the Juvenile Diabetes Research Foundation.  The two-week campaign culminated on May 9, when all classrooms spent part of the afternoon walking around the Oxford Area High School track to help raise awareness of Type I diabetes and to support classmates who have been diagnosed with this form of diabetes. Second-grade teacher Amanda Young served as school coordinator for the event, and Jason  Galante served as parent representative throughout the planning and implementation of Kids Walk.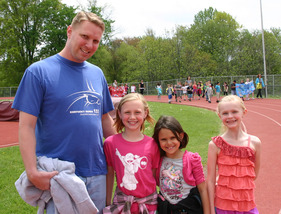 Enjoying the Kids Walk held May 9 to benefit the Juvenile Diabetes Research Foundation are (from left) Gene Huller and daughter Brianna, and second graders Dakota Kates and Emily Horton.