Unionville High School graduates the class of 2013
06/13/2013 03:14PM, Published by ACL, Categories: In Print, Schools, Today
---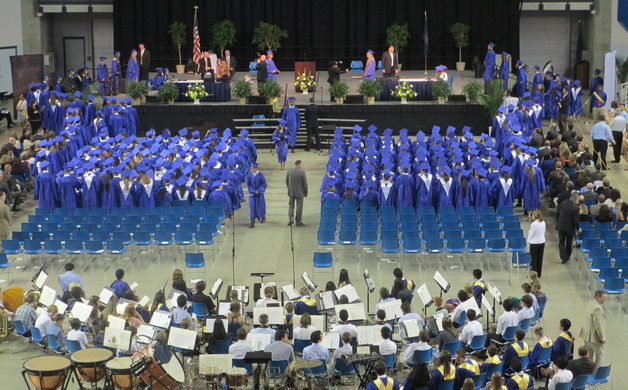 Thousands of students and family members attended the Unionville High School commencement on June 5.
---
Gallery: UHS Graduation [9 Images] Click any image to expand.
---
---
By John Chambless
Staff Writer
For the graduates and the thousands of family members who came to see them, the 90th annual commencement for Unionville High School was a chance to remember, to look forward and to celebrate.
The ceremony, held on June 5 at the Bob Carpenter Convocation Center in Newark, Del., began with the UHS Concert Band playing "Pomp and Circumstance," and the UHS Chorale singing "The Star Spangled Banner," the UHS alma mater, and Douglas Wagner's "And Wherever You Go" before opening remarks by principal Paula Massanari.
She spoke about how students impact their teachers, and read from notes she had gotten from several teachers about compliments they had received. "I believe you know the power of a compliment," Massanari said, citing the many service clubs, as well as "Random Act of Kindness Week" at the school. She told the graduates to "have an attitude of gratitude toward the people who have touched your lives."
School superintendent John Sanville looked back at the world events that have occurred since the graduates entered high school four years ago. "We welcome you to our world," he said, "because it needs you." He quoted Mark Twain, saying, "The two most important days in your life are the day you were born, and the day you find out why. Let your quest begin."
Leading the student speakers, Jeffrey Siegel delivered a spirited speech in which he thanked those who had helped him through the school's chapter of the "Best Buddies International" program, which links students who have developmental disabilities with the school community. The entire arena stood and applauded as Siegel, clearly emotional, took his seat after he spoke.
Jeremy Waterkotte and Jacqueline Viens teamed up to present a look at the lighter side of student life, trading quips with polished comedic timing. Evan Dupuis looked back at his days at Unionville, noting that "Unionville is a school to be proud of," and how his early childhood dreams of being "either a Jedi knight or the captain of the U.S.S. Enterprise" had changed. Dupuis joked about the long construction process at the school during his years there, saying, "They say that Rome wasn't built in a day. Well, neither was Unionville High School." He also touched upon the tragic world events that had occurred during the past four years, but added, "I believe that for every evil in the world, there is a force of good working against it."
The guest speaker was Vince O'Donnell, a Unionville High School science teacher who is retiring after 45 years. He was named by student vote as the UHS Educator of the Year. "What a glorious sight!" he said as he faced the crowd. "Forty-five years in the classroom has made me comfortable in a classroom, but standing here in this sea of faces is a whole other ballgame."
O'Donnell talked about how his retirement is intersecting with the 2013 graduation. "It's your turn to move on, and it's my time to move on," he said. "With your future before you, may you build a ladder to the stars, and climb on every rung. … Cherish this day. Cherish every day as you climb the ladder."
In closing, he told the graduates that, "when you look in a mirror, be sure you see respect reflected back to you."
---
---
---
unionville high school graduation graduation 2013 unionville high school graduation
---
You might also like
A graduate of Unionville High School has earned the rank of Eagle Scout.
Avon Grove graduates 442 at June 18 ceremonies
---