West Grove parish to begin construction of new lower level
06/06/2013 04:04PM, Published by ACL, Categories: In Print, News
---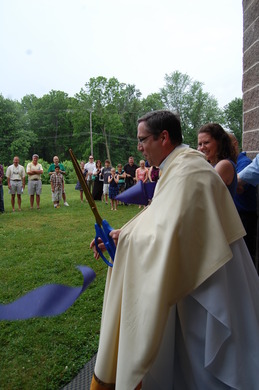 Father William S. Murphy of the Assumption of the Blessed Virgin Mary Parish in West Grove formally opens the construction of a lower level that will be added onto the main church on State Road.
---
---
By Richard L. Gaw
Staff Writer
 Before dozens of parishioners on a rainy Sunday afternoon, Father William S. Murphy of Assumption of the Blessed Virgin Mary Parish cut the ribbon on the construction of the lower level of the main church, located on State Road in West Grove. The ceremony followed a 12 noon Mass and a celebration of the Feast of Corpus Christi on the church grounds.
The construction of the lower level is the second phase of Assumption BVM's strategic plan, and is designed to create meeting rooms to better facilitate programs and activities for its congregation and for community organizations. The renovations will include a social hall, a conference room and a parish office. The construction is expected to take two years.
The first phase of the strategic plan, completed in Aug. 2012, created a four-classroom modular unit behind the parish school that better provides accommodation for a school that saw a 29 percent increase in student enrollment. The third phase of the plan will lead to the relocation of parish staff to the completed lower level of the main church. A fourth phase of the plan will renovate a house on the State Road campus that will eventually be used as a priest's residence. 
Assumption BVM is about $100,000 toward its goal of raising the $350,000 needed to complete the project, due mostly from contributions during its parish appeal. The donation of time and labor volunteering has accounted for about $20,000 in additional costs.
"We want to do all that we can to assure that our children, our youth and our adults have all the opportunities needed to form themselves as followers of Jesus Christ by knowing Him more deeply, loving him more intimately and serving Him more fully," Fr. Murphy said.   
---
---
---
assumption of the blessed virgin mary parish west grove
---
You might also like
West Grove Farmer's Market is quickly losing its 'best-kept-secret' status.
---